The answer to the ultimate question of freshness.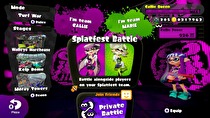 Following two days of brutal ink combat, the final Splatfest results are in.
Team Marie 360, Team Callie 340 (54-46, 51-49) At Kelp Dome, the Callie side came just short of flipping a popularity defecit in the final worldwide Splatfest competition. Regional breakdowns of the worldwide Splatfest were not available. With the win, Marie went 4-3 in 2016 in North America and Japan, and 3-4 in Europe/Australia.
In celebration of the final Splatfest competition for the Wii U game, the background music on Day 2 was "Calamari Inkantation", better known as the final boss music for the single player mode.