Anyone who took part in the last Splatfest probably saw this coming.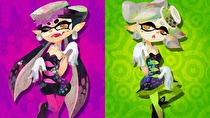 After over a year of off-and-on competition, Splatoon's Splatfests will end with the most obvious question of all.
The contests will come to an end beginning on July 22 at 2 am Pacific / 5 am Eastern time, with a two day duel concerning the subject of Callie vs Marie. To drum up support for the contest, Splatoon players in North America will receive an email survey to pick the stages used for the final showdown. There will be two sets of battles: Japan pitted against themselves, and the rest of the world duking it out, but the results will be combined and announced together.
A method for distributing the Super Sea Snails - the tools for adjusting gear - following the end of the Splatfest has not been announced. Team Callie is 9-6 in North American competition, 10-5 in Europe/Oceania and 8-7 in Japan to this point.