A shocking collection, to be sure. Now with English names and abilities!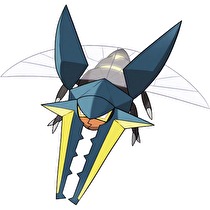 The Pokémon Company has released a new trailer showing off seven new Pokémon.
An announcement was originally scheduled to air tomorrow but leaked out, prompting the early release. The new Pokémon have the following Japanese names:
Tapu Koko (JP: Kapu Kokeko): Electric/Fairy guardian of Melemele Island, Electric Surge ability creates Electric Terrain on switching in, learns new move Nature's Madness/Wrath of Nature.
Charjabug (JP: Denjimushi): Bug/Electric, evolves from Grubbin, new ability "Battery", evolves to...
Vikavolt (JP: Kuwaganon): Bug/Electric with Levitate
Drampa (JP: Jijīron): Normal/Dragon, new ability Berserk raises Special Attack under certain circumstances
Bruxish (JP: Hagigishiri): Water/Psychic, new ability "Dazzling" blocks priority moves
Cutiefly (JP: Aburī): Bug/Fairy type, Shield Dust/Honey Gather abilities
Togedemaru: Electric/Steel with Lightning Rod or Iron Barbs abilities
Additionally, the previously announced Iwanko and Nekkoara will be named Rockruff and Komala.
Images provided by Bulbapedia.