The producer/director is a RPG veteran.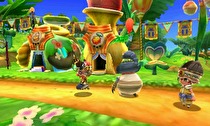 Nintendo's new action RPG for 3DS has been announced, and it's from the veteran developers at Grezzo.
Ever Oasis is a game set in a barren desert that involves creating an oasis and fighting into dungeons to protect the village. During the Treehouse Live presentation, a three-member party was shown for dungeon exploration.
The producer/director for the game is Koichi Ishii, who worked on early Final Fantasy titles as well as the Mana series before founding Grezzo.
According to Nintendo's E3 site, Ever Oasis will release next year.