Because it's twice the box.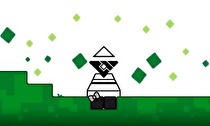 The further adventures of Boxboy (or Boxgirl) are coming to North America.
Nintendo's Facebook has confirmed in today's Treehouse Live advertisement that Boxboy: Another Box will be released as BOXBOXBOY. No release date was given, but the game will be shown on today's Treehouse Live.
As well, Nintendo's schedule is promising that the new RPG game will be shown at 1:50 Eastern / 10:50 Pacific and it is a "action/adventure/RPG".
UPDATE:
BOXBOXBOY will release in both North America and Europe on June 30 and can be preloaded now in North America, while the original game is now on sale for $2.99 US/C.