The Ironfall developers team up with an "anti-supercar maker" on major consoles including a stunner.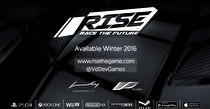 The developers of IronFall Invasion have announced a new title that has a very interesting set of target platforms.
VdDev is teaming up with Jannarelly, a maker of sports cars, to produce RISE: Race The Future. Not many details are available about the title, but it appears to be a realistic racing game for Wii U, 3DS, PlayStation 4, Xbox One, PC, mobile platforms and the Nintendo NX.
Amusingly, the logo used to represent NX in the trailer was actually created to serve as a placeholder logo by Australian Nintendo news site Vooks.