A lot of inexpensive dungeon crawling this week.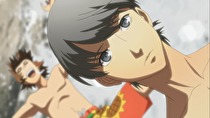 NISA is lowering the price on some older 3DS dungeon crawlers in Europe beginning with Thursday's eShop update.
Shin Megami Tensei Devil Summoner Soul Hackers, Etrian Odyssey IV and Etrian Odyssey Untold will be reduced to €9.99/£8.99 from a regular price of €39.99/£34.99, while Persona Q: Shadow of the Labyrinth will be reduced to €19.99/£17.99.
It is not known if other recent NISA/Atlus releases will be affected by this, though the two companies have had a recent separation. This is also the first time that the games have had any price drop in Europe, though they are regularly on sale in North America.