Probably the one day there's absolutely NO RPGS coming out, right?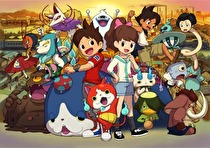 Level-5's mischevious Yo-Kai are making a return engagement on 3DS this fall.
Yo-Kai Watch 2: Bony Spirits and Fleshy Souls versions will hit in stores and on the 3DS eShop this fall to coincide with season 2 of the anime and a new line of toys. Nate/Natalie will grab an upgraded watch and a whole new set of Yo-Kai, including some that are exclusive to one of the versions.
Yo-Kai Watch 2 offers gameplay improvements over last November's 3DS title, including online multiplayer Yo-Kai battles.