In terms of their game development focus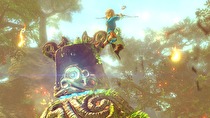 Nearly a year after the game's delay to 2016 was announced, Eiji Aonuma has provided a tease as to what awaits in the new land.
In a Famitsu interview (translated by Kotaku), Aonuma stated that the theme of the game was to be "something new", stating that the "secret sauce" was Ocarina of Time. This time, the food base is a little different: "But this time, the change in flavor will be like going from Japanese food to Western style food. Perhaps, players will be surprised."
We hope to learn more about the Zelda Wii U title soon.