March 11, Pikmin 3 goes down in price by about 80%.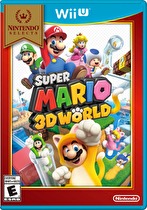 Nintendo has issued a statement confirming a previously revealed expansion to the Nintendo Selects line.
The new Selects, which include the first Wii U additions to the program, will release om March 11 at a MSRP of US$19.99/C$29.99. Previous precedent has had digital prices lowering to match as applicable.
The games in the program are:
Wii U: Super Mario 3D World, Donkey Kong Country Tropical Freeze, NES Remix Pack, Pikmin 3
3DS: The Legend of Zelda Ocarina of Time 3D, Donkey Kong Country Returns 3D, Yoshi's New Island, Mario Party Island Tour
Wii: Super Mario All-Stars*, Donkey Kong Country Returns, Super Mario Galaxy 2, Animal Crossing: City Folk
*will be disc only and not include the 25th anniversary book/CD