Only a Canadian price is known so far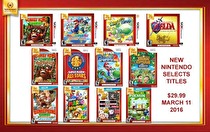 The Nintendo Selects line is expanding again for North America.
Canadian video game retailer VideoGamesPlus posted a Tweet announcing the new games, which cover some rarities for Wii U, Wii and 3DS. The Canadian MSRP will be $29.99, and the new pricing/packaging will debut on March 11.
The affected games:
Wii U - Donkey Kong Country: Tropical Freeze, Super Mario 3D World, NES Remix Pack, Pikmin 3
Wii - Donkey Kong Country Returns, Super Mario Galaxy 2, Super Mario All-Stars, Animal Crossing City Folk
3DS - Donkey Kong Country Returns 3D, Mario Party Island Tour, Yoshi's New Island, The Legend of Zelda: Ocarina of Time 3D