Several indie developers have banded together for a big Wii U sale.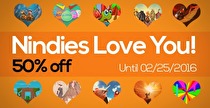 Wii U owners looking for some inexpensive indie titles are in for a treat soon.
A group of indie developers have come together for the 2016 "Nindies Love You" sale, which will begin with this week's eShop updates and run for two weeks. The titles in the sale are all 50% off.
The games on sale, with sale prices in parentheses:
North America
Teslagrad ($7.49)
Chariot ($7.49)
Tengami ($4.99)
Sportsball ($4.99)
Chasing Aurora ($3.99)
PING 1.5+ ($2.49)
ZaciSa's Last Stand ($1.99)
psyscrolr ($1.99)
Blok Drop x Twisted Fusion ($1.50)
Turtle Tale ($1.49)
Europe
Teslagrad (£6.99 / €7.49)
Chariot (£6.74 / €7.49)
Tengami (£3.49 / €3.99)
Race The Sun (£3.49 / €4.99)
Chasing Aurora (£2.99 / €3.49)
ZaciSa: Defense of the Crystal Dimension! (£2.49 / €2.99)
Blok Drop x Twisted Fusion (£1.14 / €1.49)
Turtle Tale (£1.34 / €1.49)
Australia
Teslagrad ($9.99)
Chariot ($9.75)
Tengami ($4.99)
Chasing Aurora ($3.99)
ZaciSa: Defense of the Crystal Dimension! ($2.15)
Turtle Tale ($1.99)