And some new details about the expanded service.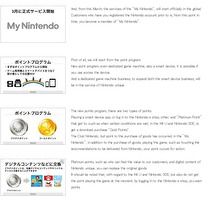 The My Nintendo loyalty program will be launching before the end of the quarter.
Nintendo announced the details of the program at a shareholder's meeting following last night's release of their 3rd quarter financials. The program will launch in all major territories this March, and will feature two classes of points:
Gold points: Similar to the Deluxe Digital Program, tied to purchases, result in discounts
Platinum points: Earned through browsing the eShop, reading things on Nintendo websites, or ingame achievements - can be traded for digital rewards such as themes or physical goods (similar to the old Club Nintendo service).
The existing Nintendo Network ID structure appears to migrate over to My Nintendo, but the game achievements may not be available for 3DS or Wii U titles - this would begin with the next console/handheld.