Includes the first directly wired controller for the Wii U.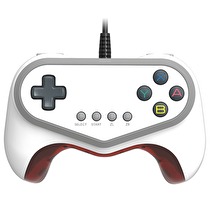 Pokkén Tournament will have local play in its Wii U incarnation, but one player will be fighting alongside their Pokémon on the GamePad.
In an announcement of the special wired controller for Pokkén Tournament, HORII confirmed the game will support 2 player versus play, but only one of the controllers will be valid as one player must use the GamePad for control. The game's unique perspective on the Pokémon in battle appears to be the root cause of the issue.
HORII's controller, which uses a wired connection to minimize wireless interference, will release with the game in Japan on March 18, and Amazon is taking preorders for the same date. More information on the controller's layout can be found in the most recent episode of the Famicast.