It's long...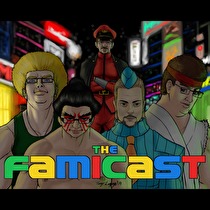 Subscribe via iTunes (Please rate and review, too!)
Welcome to a special Christmas edition of the Famicast where we barely even mention Christmas at all! Though if two special features and a bonus special feature aren't Christmas presents for you lucky, lucky listeners then I don't know what is. As usual we kick things of with what we've all been playing recently. Danny seems confused to find he was playing Lost Reavers, James once again shocks by playing Splatoon and Mario Maker, Sairus gives himself carpal tunnel syndrome on Kid Icarus Uprising and Ty tries out the indie hit Undertale.
In a relatively quiet news week we touch on Nintendo finally giving into James' demands for a WiiU edition of Minecraft and Sairus rambles on about Pokken Tournament updates. The whole crew also give their opinions on the recent and final Smash Bros. Nintendo Direct announcements of new characters and costumes.
In the first of two special features we look back on the history of Nintendo's consoles and how so many of their design decisions were shaped by a focus on the Japanese lifestyle and not Western markets. Will this trend continue with the NX?
The second feature sees us going through our Nintendo gameplay logs to see exactly what games had our attention this year. Ty also gives us a profoundly disturbing look at his Xbox habits. We also encourage all our listeners to do the same and let us know how your year panned out!
In a final bonus segment, the Famicrew are joined by a guest host from a long time ago in a prefecture… actually quite close to everyone else, to talk about the 2nd most popular movie in Japanese cinemas this Christmas - Star Wars the Force Awakens.
This podcast was edited by Danny Bivens.
Music for this episode of The Famicast is used with permission from 8 Bit Weapon. You can purchase their music and shirts from their website 8bitweapon.com
Additional music for this episode of The Famicast is copyrighted to Nintendo, and is included under fair use protection.
The artwork for the show was designed by Tony Losoya, follow him on Twitter @Tony_Losoya