One continent has a really tough call to make.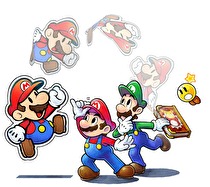 Europe and Australia might not see Yo-Kai Watch this year, but they have a new substitute.
Nintendo of Europe and Nintendo of Australia have both confirmed their region's release dates for Mario and Luigi: Paper Jam Bros. The fusion RPG will release in Europe on 4 December, and Australia on 10 December.
The release coincides with Japan's release date of December 3, but the games will be coming out around - or in Europe's case, the day of - Xenoblade Chronicles X's release date of 4 December.