Holdouts now have an option.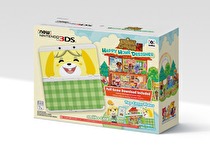 Nintendo has announced new hardware exclusive to GameStop in the US at the retailer's manager conference in Las Vegas, including the North American debut of the smaller New 3DS.
The New 3DS will come in a bundle with a download code for Animal Crossing: Happy Home Designer, two New 3DS faceplates and an Amiibo card at a MSRP of $219.99. The bundle releases with the game on September 25. The colored buttons of the European and Japanese models will be retained, while a charger will still be sold separately.
Also announced at the conference were the following special edition pieces of hardware:
A special edition New 3DSXL with Hyrule emblems that launches on October 30, a week after The Legend of Zelda: Tri Force Heroes
Special Wii Remote Plus models badged with Bowser, Toad and Yoshi. The first two will release a week from Friday to coincide with Super Mario Maker, while the Yoshi will release on October 16 with Yoshi's Woolly World.
All of the hardware is showing in stock on GameStop's website as of press time.