The next step: RIDEABLE YARN YOSHI.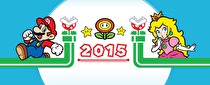 Nintendo of America and Nintendo of Europe both sent out statements this morning setting up the release calendars for the rest of the year.
The calendar is as follows:
North America
Runbow launches this Thursday, August 27.
Disney Infinity 3.0 releases this Sunday, August 30.
Super Mario Maker launches on the 11th of September, along with a console bundle that includes the Modern Colors Mario Amiibo and the system for $299.96 (Walmart exclusive).
Skylanders SuperChargers releases on September 20.
Animal Crossing: Happy Home Designer launches September 25 along with the Amiibo cards. Cards are $5.99 for 6, and for old 3DS owners the 3DS NFC reader launches the same day for $19.99. A bundle with the writer, Happy Home Designer and a card is $49.99.
Lego Dimensions releases on September 27, with $99.99 for the base pack and Level, Team and Fun Packs at respectively $29.99, $24.99 and $14.99.
Chibi-Robo Zip Lash is October 9: standalone game $29.99, Amiibo bundle $39.99.
Yoshi's Woolly World is October 16: standalone game $49.99, Amiibo bundle (green) $59.99. Pink and blue Yarn Yoshi Amiibo launch the same day for $16.99.
The New Super Mario U and New Super Luigi U from older Wii U bundles will also release on October 16 for $59.99.
Fatal Frame: Maiden of Black Water will be an eShop exclusive on October 22. The download will be free and cover the prologue, the first and most of the 2nd chapter of a 14 chapter game. The full download will be $49.99.
Guitar Hero Live and Just Dance 2016 release on October 20.
The Legend of Zelda: Tri Force Heroes launches October 23.
The Mii Fighter Amiibo 3-pack will release on November 1, $34.99.
Yo-Kai Watch launches on November 6.
The Mewtwo Amiibo will release on November 13.
November 15 sees the release of the Mega Yarn Yoshi, a Yarn Yoshi Amiibo approximately three times the size of the normal Amiibo but with the same functionality. It will release for $39.99.
November 20 has Star Fox Zero, the Falco Amiibo, and Pokemon Super Mystery Dungeon.
Xenoblade Chronicles X launches December 4.
Devil's Third launches December 11. This leaves Animal Crossing Amiibo Festival and Mario Tennis Ultra Smash without solid dates.
Europe
Disney Infinity releases this Thursday (Friday in the UK).
LBX: Little Battlers eXperience launches 4 September.
Super Mario Maker launches on the 11th of September with a console bundle and limited edition.
Skylanders SuperCharges launches 25 September.
The Mii Fighters and retro trio (Duck Hunt Dog, ROB and Game and Watch) also launch 25 September.
Lego Dimensions launches 29 September.
Animal Crossing: Happy Home Designer releases 2 October along with New 3DS and New 3DSXL bundles, the NFC reader, faceplates and the Amiibo cards plus an album bundle.
The Dragon Ball Z Extreme Butoden bundle launches with the game 16 October.
Just Dance 2015 releases 22 October.
23 October sees Guitar Hero Live and The Legend of Zelda: Tri Force Heroes, as well as Modern Colors Mario and Mewtwo.
Project Zero: Maiden of Black Water releases 30 October with a retail limited edition and the eShop release.
Chibi Robo Zip Lash and the Amiibo bundle are 5 November.
November 20 has the following: Star Fox Zero, Mario Tennis Ultra Smash, New Style Boutique 2 (Style Savvy 3/Girls Mode 3), Falco Amiibo and Toad/Bowser Wii Remote Plus.
The Mega Yarn Yoshi will invade Europe on 27 November.
4 December has the Xenoblade Chronicles X launch (including LE game and system bundle). This leave Animal Crossing: Amiibo Festival without a date beyond "2015".