NWR has it first - Runbow launches before the end of the month!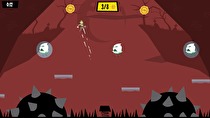 We have a release date and price for Runbow straight from 13AM Games.
The nine-player runner with the all-star casts of Nintendo indie characters will launch on the eShop in North America August 27 (three weeks from Thursday). The game will launch at $14.99, with a 15% discount ($2.25 off) if the Nindie @ Home demo was downloaded during E3 week.
Runbow will be playable at PAX Prime, which opens the day after the launch and will give attendees to get some multiplayer time in if they haven't already.