Some of the Wii U's finest, unreleased characters and even code mascots join the all-star race.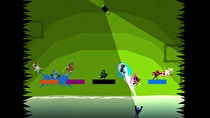 The cast of characters previously announced for 13AM's Runbow has expanded even further with nine new characters joining the fray.
As first reported by NintendoLife, the nine characters cross the Nintendo indie spectrum, including characters from 3DS exclusives and even unreleased games.
The full list of newcomers is as follows:
Gunvolt (Azure Striker Gunvolt)
Max (Mutant Mudds and Mutant Mudds Super Challenge)
Xeodrifter
Teslamancer (Teslagrad)
Clone (Stealth Inc and Stealth Inc 2)
ARID (The Fall)
Princess (Chariot)
Drifter (Hyper Light Drifter)
Unity-chan (Japanese mascot for the Unity development platform)
These nine characters join characters from Guacamelee, Shovel Knight, SteamWorld Dig, Sportsball, Runner 2 and Scram Kitty and His Buddy on Rails.