Including a full list of costumes for your perusal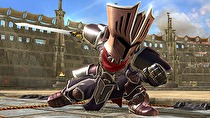 Version 1.1.0 of both the 3DS and Wii U versions of Smash Bros is now live.
As previously promised, the update includes replay uploading, the oft-promised tournament mode and several new stages and Mii costumes available for purchase, plus many balance changes. Downloading the update also unlocks the KK Slider Mii costume.
The Peach's Castle and Hyrule Castle stages are available for purchase at $1.99/$2.49 for one version, $2.99/$3.79 for both, while the following outfits are available for $0.75/$0.99 for one version or $1.15/$1.49 for both: Smash Hoodie, Bear Suit, King K. Rool, Flying Man, Chrom, Black Knight (Fire Emblem), Lloyd and Samus's Armor.
New bundles have also been added: A costume bundle is $6.00/$7.92 for one version or $9.20/$11.92 for both, a collection of all new DLC for $9.98/$12.90 or $15.18/$19.50, and a bundle of the four DLC characters (Mewtwo, Lucas, Roy, Ryu) and the Suzaku Castle stage is $17.96/$22.46 or $21.96/$27.66.
The 3DS update is 2096 blocks (262MB) while the Wii U update is 285MB.