More slime filled adventures await in the future!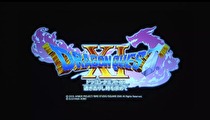 Square Enix in a video presentation today announced the next main entry in the Dragon Quest series, Dragon Quest XI, for the Nintendo 3DS, as well as the Playstation 4 and Nintendo's upcoming system, currently codenamed the NX.
Footage was shown of the 3DS version during the event. This version showed 3D graphics on the top screen and 2D sprites on the bottom. It also showed battles in both 2D and 3D. At the very end of the event, it was announced that XI, along with Dragon Quest X, will be making it's way to the Nintendo NX as well. The director of the game will be Takeshi Uchikawa.
It was noted in the conference that they aim to release this on Dragon Quest's 30th anniversary, which is next year. But no solid release date has been announced.
UPDATE: SquareEnix's Japanese PR statement indicates the company is "considering" the NX.