The console that served as a turning point for gaming itself finally emerges.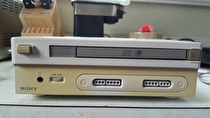 A series of photos and a Youtube video point to the existence of a Nintendo Play Station Superdisc - one form factor of the SNES CD-ROM - in the wild.
The prototype system has a cartridge slot, two SNES controller ports, and a tray loading disc slot. The photos show a prototype cartridge, and a controller that appears to look like the classic Super Famicom controller but badged with the Sony logo and the prototype PlayStation logo. The bottom of the console has the SNES expansion port on it.
Originally, the SNES CD Rom was to be produced by Sony in a fashion similar to the Sega CD, as either an expansion to the Super Nintendo or in a combo system. Nintendo ended up working with Philips and the CD-ROM addon never released, while Sony refined the ideas into the original PlayStation console in 1994.
The console was in the private collection of a former Nintendo employee and was posted to Reddit. Photos are available below, originally from imgur, and the owner has posted a Youtube video: