"Kid season!" "Squid season!" "KID SEASON!" "SQUID SEASON!"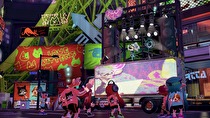 Of course, there's a giant cephalopod in the room this week in the Nintendo eShop update, and that's Splatoon. Hopefully when the game goes live at midnight, it's more like the first three global testfires instead of the last one's first half.
But the Wii U is wrapping up Mega May with the fourth Mega Man Battle Network game(s) and Mega Man Zero, while indie darling Don't Starve makes its debut on Nintendo platforms with a unique promotion: buying the game for $15+tax gets you a code to give to a friend. Or your worst enemy on the Nintendo World Report forums. Rival Turf is unmemorable... well, except for its box art.
It's a slow week for the 3DS, but Circle Entertainment is observing Memorial Day a few days late with the second Glory of Generals game, focusing on the Pacific theater. Also a DSiWare release, because why not.
Wii U Retail
Splatoon ($59.99/$69.99, preload available, launches midnight ET May 29)
Wii U eShop
Don't Starve: Giant Edition ($14.99: Buy 1, get a code for a copy for a friend)
Baila Latino ($29.90/$34.90)
3DS eShop
Glory of Generals: The Pacific ($6.99/$8.49)
Wii U Virtual Console
Rival Turf (SNES) ($7.99)
Mega Man Battle Network 4 Red Sun/Blue Moon (GBA) ($7.99)
Mega Man Zero 3 (GBA) ($7.99)
DSiWare
G. G. Series WONDERLAND ($1.99/200 DSi Points)
Demos
SDK Paint (Wii U)
3DS Themes
Mighty Switch Force ($1.99/$2.52)
Pokemon Shuffle ($1.99/$2.49)
Pokemon: Eevee Collection ($1.99/$2.49)
Pokemon: Mega Charizard X ($1.99/$2.49)
Splatoon: Fresh Squid ($1.99/$2.49 - releases Friday)
Sales / Price Drops
Reminder: The Humble Nindie Bundle is active at humblebundle through 1pm on June 9.
Nicalis games are 50% off until June 18
Activision games are on sale until June 4
Cypronia games are on sale until June 30
Luv Me Buddies Wonderland is "up to 48% off" until July 31.
Zumba Fitness World Party is $9.99 (from $39.99) from June 1 - 8
Fit Music is $12.90 (from $29.90) until July 31.
Crash City Mayhem is $4.99 (from $19.99) from June 1 - 8
Monster Combine TD is $2.59 (from $3.99) until June 25.
Shuttle Rush has been permanently reduced $3.99 (from $7.99)