The two Wii U games combined for a total NWR score of 11.5 on their first review.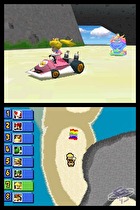 An interesting week on the Nintendo download front, even if all of the attention's going to the 2nd DLC for Mario Kart 8. You can celebrate the release by grabbing the portable classic Mario Kart DS, with its never-repeated Mission Mode and the joys of cart customization... or you can torture yourself with Suspension Railroad Simulator.
On the 3DS end, it's a quiet week for new software, but Cube Creator 3D appears to be the best effort yet to get a certain building and creation game running on the 3DS without handing a bag of money over to Microsoft.
Also, Atlus games are on sale, and a prominent ball of gas will rise in the east tomorrow. Said ball will work its way west before setting tomorrow evening.
Article updated with Canadian pricing
Wii U Downloadable Content
Mario Kart 8 DLC Pack 2 ($7.99 - $11.99 for packs 1 and 2 together: $9.99 and $14.99 in Canada)
Wii U Virtual Console
Mario Kart DS ($9.99)
Wii U eShop
Suspension Railroad Simulator ($7.99/$9.99)
3DS eShop
Cube Creator 3D ($4.99 - promotional price through May 7)
3DS Themes
Shin Megami Tensei Devil Survivor 2: Record Breaker (April 28)
Sales and Price Drops
Atlus will have Code of Princess, Etrian Odyssey Untold and Shin Megami Tensei Devil Summoner Soul Hackers for half price ($14.99ea) through Monday at 9PT.
Korg DSN-12 and Korg M01D are on sale until May 7.
Tetrobot & Co is 70% off until April 30.
Cocoto Magic Circus 2 is 66% off until May 7.
Classic Games Overload: Card & Puzzle Edition is 33% off until May 11.
Van Helsing Sniper Zx100 is 47% off until May 17.
Soccer Up 3D and Soccer Up Online are on sale until May 21.