The return of a lost DS classic headlines the weekend's Nintendo news, as well as a look ahead to the coming week.
DreamRift Announces Monster Tale Ultimate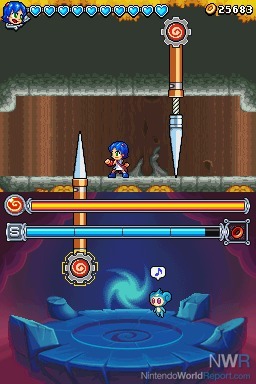 An enhanced version of 2011's Monster Tale will be coming to the 3DS eShop this spring.
As first revealed by our own Neal Ronaghan in the most recent issue of Nintendo Force magazine (volume 14), the remake will feature stereoscopic 3D, changes to approximately half of the levels, and a new orchestral version of the musical score. The option will be available to switch to the old soundtrack as well.
The original game released in March 2011 (the same month as the 3DS), and features a combination of exploration platforming on the top screen and a pet-raising game on the bottom screen.
Our Take: "I missed this one the first time for a combination of 3DS and Pokemon-related reasons, so I'll be looking into this re-release." - Donald Theriault
---
Wii U eShop Lineup Takes Shape
Nintendo's lineup is taking shape for the Thursday eShop update, with four different games showing April 2 release dates on Nintendo.com.
The games are:
These games join the previously confirmed Angry Video Game Nerd Adventures in coming out Thursday.
Our Take: "I've never understood why the first eShop release day of the quarter is always so busy." - Donald Theriault
---
The Week Ahead:
The biggest story of the last week came late Friday, as Nintendo announced the delay of The Legend of Zelda Wii U. In case you missed it, the announcement video is available here, and our live reaction from Neal, Addison and Curtis is here.
There has been a lot of chatter about a potential Nintendo Direct, and Neal added a little bit of fuel to the fire on Friday:
I'm seeing folks talk about this so here goes. Boxboy's NA review embargo is April 1. I'm putting my money on a Direct that morning.

— Neal Ronaghan (@nron10) March 27, 2015
Obviously, Nintendo World Report will be right on top of any Nintendo Direct announcements as soon as they are available.
Also this week, the last day for Club Nintendo game registration for NA is Tuesday, and we may see the final Elite Status rewards as soon as Wednesday. Nintendo has promised the Elite Status download codes will be available "between April 1 and April 30". What might those codes be? A very brave Donald tried to take a wild guess.
And finally, Justin has gone into extensive detail on what the DeNA deal and NX means for Nintendo, and you'll see the fruits of that research this week. Please be excited.