Knock these three off your Pokédex!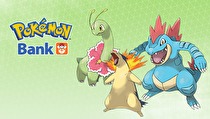 Meganium, Typholsion and Feraligatr will be avaliable to download for Pokémon Bank subscribers later this month.
Between Febuary 27 and November 30, those who take part in Pokemon Bank will be able to download all three Johto starters. Each are level 50 and come with hidden abilities.
Meganium will have Leaf Guard, which under harsh sunlight will be able to prevent status aliments. Since this Meganium also knows Sunny Day, that won't be a problem to execute. Typholsion's is Flash Fire, which makes it immune to fire type moves. It also has the moves Overheat, Flame Charge, and Flamethrower. Finally, Feraligatr's hidden ability is Sheer Force, which eliminates status effects of moves. Its moves include Ice Fang, Waterfall, and Crunch.
Pokemon Bank is available on the Nintendo eShop for $4.99 a year.