Not one, but three Metroid games out for you to enjoy this week!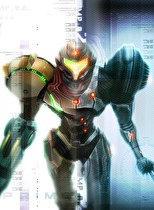 Some notable releases this week on the Download, as always! First, Metroid Prime Trilogy has arrived on the Wii U eShop. This originally had a limited retail quantity, so you can already feel the tears of eBay sellers as their hundreds of dollars frittered away into maybe forty bucks at this point. But hey, at least everyone who wanted to have it can now play it to their heart's content! A new demo is out for Code Name: S.T.E.A.M. as well, so if you are interested in assisting Abe Lincoln on his quest to rid aliens from our home planet, well now's a good a time as ever! Finally, if you like your releases a little more indy, Gunman Clive 2 is now out on the 3DS eShop. Neal praised it a ton in his review (which you can see here) so if you're feeling a bit more art house-y than usual, why not give it a try?
Wii U Downloads
Wii U Virtual Console
Nintendo 3DS Downloads
Nintendo 3DS Virtual Console
Demos
Code Name: S.T.E.A.M.
Sales
It's the final week of the Throwback Sale! Save up to 50 percent on select games of past and current Nintendo console generations! Hurry, the sale ends at 8:59 a.m. PT on Feb. 5. Check out the offers avaliable here.
Stealth Inc. 2: A Game of Clones, Thomas Was Alone and more games from Curve Digital are on sale until 8:59 a.m. PT on Feb. 12. (Wii U)
Teenage Mutant Ninja Turtles: Danger of the Ooze and Teenage Mutant Ninja Turtles are on sale until 8:59 a.m. PT on Feb. 5. (3DS)