The upcoming Wii U RPG from Monolith Soft is quite massive, according to Famitsu.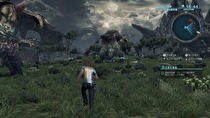 New gameplay details from the upcoming Wii U RPG Xenoblade Chronicles X have emerged in the latest issue of Famitsu.
The world of Xenoblade Chronicles X will be about 5 times the size of the world in the previous game in the series, Xenoblade Chronicles. Because of this larger world, the linearity of the game's story and progression has been tweaked. Instead of having to take on one big quest while taking on smaller ones in a linear order, players now have the freedom to tackle quests in any order they see fit, similar to games in the Fallout and Elder Scrolls series. The GamePad will display a giant map in which players can view all the active and available quests, and also allows them to warp to different areas instantly. Executive Director of the game Tetsuya Takahashi said it took him over 300 hours to play through the entire game's content.
The gameplay is also faster-paced, giving the player a faster sense of speed and ability to change from short to long-range weapons fairly quickly. While there is no healer class in the game, there's a new system in place called "Soul Voice", which can be triggered to string together attacks and heal the party at the same time. While it looked like the game featured online co-op in some of the early trailers, the game will only feature online functionality in a passive way, allowing players to leave behind messages for others, similar to to the Souls series of games.
Xenoblade Chronicles X is due out on April 29 in Japan.