While it's coming to Japan this summer, the next Fire Emblem's release time frame elsewhere is a little more aloof.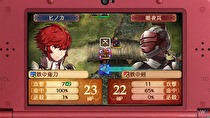 The new Fire Emblem game for 3DS has no set release time frame outside of Japan according to Nintendo's latest financial results briefing. The game, revealed at the January 2015 Nintendo Direct, is slated to come out in Japan this summer.
Previously, Nintendo of Australia listed the new Fire Emblem game as a 2015 release in an email. When it was revealed at the Nintendo Direct, no release window was given outside of Japan.
The most recent Fire Emblem game, Fire Emblem Awakening, came out in North America nearly a year after the Japanese release.