Surprise of the century: Smash Bros. and Mario Kart sell well.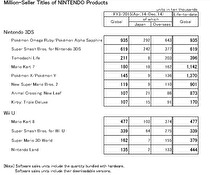 A list of Nintendo's top selling titles of 2014 has been released, with Pokémon Omega Ruby/Alpha Sapphire and Mario Kart 8 topping off their respective platforms.
The numbers listed include digital sales and are worldwide totals. Since its release, Mario Kart 8 has sold 4.77 million units with Smash Bros. for Wii U following with 3.39 million. While not released this year, Super Mario 3D World and Nintendo Land both made the list, though it is worth noting that hardware bundle numbers were included.
The 3DS had its share of big sellers as well. Pokémon Omega Ruby/Alpha Sapphire was the highest selling 3DS title of 2014, with 9.35 million units sold worldwide, followed by Super Smash Bros. for 3DS at 6.19 million. Tomodachi Life placed third at 2.11 million, with the only other new release making the list being Kirby Triple Deluxe at 1.07 million.