Have hope! It looks like the game hasn't been scrapped yet.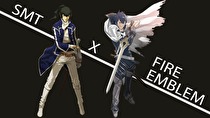 Shin Megami Tensei x Fire Emblem appears to still be in the works over at Atlus, according to Nintendo's latest earnings release.
While we haven't heard a thing about this game since it was first unveiled in January 2013, the Wii U-exclusive crossover is still included in Nintendo's launch schedule. There's no release window for the game, however, so don't expect it to hit store shelves anytime soon.
Do you think SMT x FE will eventually see the light of day, or are those of us hoping to play the game in 2016 being overly optimistic?