The popular franchise proves that people still have the "gotta catch 'em all" fever in Japan.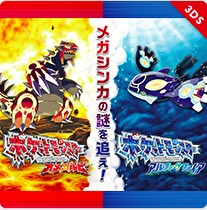 Pokémon Omega Ruby and Pokémon Alpha Sapphire have already sold two million physical and digital units in Japan. The success of these games marks the fourth title (with both games referred to as one by Nintendo) in the past five months to sell through two million units. The other titles that achieved similar success in the time period on 3DS in Japan are Yokai Watch 2: Ganso and Honke Editions, Super Smash Bros. for Nintendo 3DS and Monster Hunter 4G (Ultimate). Including these four titles, there are currently ten titles in Japan that have sold over two millions units or more on Nintendo's handheld. According to Nintendo's internal data tracking in Japan, the original DS had 14 titles that sold over 2 million each, eight titles on the Wii and only two on the Game Boy Advance.
Pokémon Omega Ruby and Alpha Sapphire released in Japan, North America and Australia on November 21 and in Europe on November 28. For more about the game, be sure to check out our review here.