Plus, an update on the upcoming Star Fox title!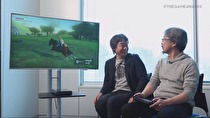 New footage of the upcoming The Legend of Zelda Wii U title closed off The Game Awards tonight.
In it, Zelda Producer Eiji Aonuma and Shigeru Miyamoto demonstrated Link riding trusted steed Epona through a variety of situations. From what it appears, Anouma's promise of the upcoming Zelda title to be a open world experience looks to be accurate. They also demonstrated the map area detailed on the Wii U GamePad's screen.
While riding your horse, you seemingly can set auto-pilot and watch as your horse carries you to a destination. When that happens, you can use weapons and more while you ride. You can even vault off of the horse and fire off an arrow in mid-air in a bullet-time-like fashion. The demo also showed Link using the sail cloth, which was last seen in Skyward Sword.
Miyamoto also gave a brief update on the upcoming Star Fox title. Progress is good and they look to have it out next year, before the Legend of Zelda game also due out next year.