World Tour dates announced and beginning in January 2015.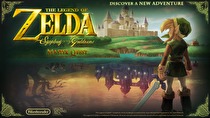 The Legend of Zelda concert series is returning for a worldwide tour starting in Nashville, Tennessee in January 2015.
For its third installment, fans will see new artwork and musical inclusions from new games like A Link Between Worlds and future releases like the upcoming Majora's Mask 3D. Concerts will be performed by full orchestra and choir at venues around the world. The tour begins on January 21 and 22 in Nashville and includes performances through October 22 in cities around the world such as London, Tokyo, Mexico City, Milan, and Boston. Tickets are not yet on sale for all performances, so be sure to check back with ticket providers for exact sale dates.
While new selections are being added, music from previous installments will return. Symphony of the Goddess refers to the concert program as well as the four-part symphony that makes up a large part of the show, recounting storylines from four of Zelda's biggest games: Ocarina of Time, Wind Waker, Twilight Princess and A Link to the Past. Music from other games such as Link's Awakening and Spirit Tracks will also reappear.
To check the show schedule and find links to make ticket purchases, head to the Zelda Symphony website.