Plus a spooky new online competition!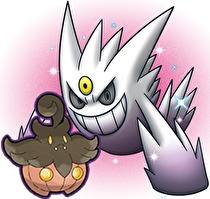 Get your copies of Pokémon X and Y ready for the Halloween season with a shiny Gengar and super-sized Pumpkaboo this month.
GameStop will be distributing cards with a code to download Gengar from October 13 to 26. Gengar will be holding Gengarite, a Mega Stone, which will turn it into a bright white Mega Gengar with the Shadow Tag ability, preventing enemies from switching out or fleeing during battle. GameStop will also be selling exclusive Pokémon TCG Gengar Booster two-packs, which includes a Gengar Spirit Link Trainer card.
Starting today, Pumpkaboo can be downloaded via the Nintendo Network as a Mystery Gift. The Pokémon will come with Halloween appropriate moves like Trick-or-Treat and Scary Face and will hold a Rocky Helmet which damages any Pokémon using a physical attack. Pumpkaboo will be available until October 31.
A special ghost-type single battle online competition, the Trick-or-Treat Friendly, will require a super-sized Gourgeist, so players will need to trade their newly acquired Pumpkaboo with a friend so it can evolve.