Shigeru Miyamoto talks about the possible connection.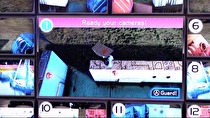 Project Guard may be included as part of the upcoming Wii U version of Star Fox, Shigeru Miyamoto has hinted in a recent interview.
Miyamoto was keen to suggest that both Project Guard and Project Giant Robot are, in their current state, merely base elements of their respective concepts, intended to show the development process behind Wii U titles. When completed these projects may not materialize as fully-fledged games, rather, the core concepts may become simple-but-key aspects incorporated into other, bigger games such as the upcoming Star Fox.
While no ideas have yet been finalized, Miyamoto has several different concepts for the new Star Fox. One of which would not just focus on familiar craft from the series such as the Arwing or the Blue Marine, but rather incorporate a wider variety of gameplay options, possibly including a base like the one found in Project Guard. Other vehicles such as fighting mechs could also be included, perhaps similar to what has so far been seen in Project Giant Robot.
For the Wii U version of Star Fox, Miyamoto is looking to move the series from what he calls a big dramatic adventure for a movie theater, like the previous games, to something more akin to a TV series. Miyamoto went on to say, "So maybe Project Guard is the TV series of Star Fox that runs late at night, and the main missions of Star Fox are the TV series that runs in primetime."
Star Fox is scheduled to release on the Wii U in 2015.