Could this smaller game secretly be a piece of the new Star Fox?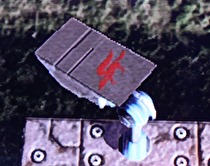 A Star Fox logo was found within Miyamoto's upcoming game titled Project Guard. The logo, which was discovered by a NWR staffer attending E3, can be found on the top of one of the security cameras the player can control.
Images of the Star Fox logo found within Project Guard, both zoomed in and out, can be seen below.
So is Project Guard actually just a piece of the upcoming Star Fox Wii U title? Only time will tell.