Tezuka tells us it's simply a Yoshi game borrowing the Epic Yarn visual style.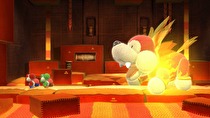 Yoshi's Woolly World will be more challenging than Kirby's Epic Yarn, Nintendo designer Takashi Tezuka explained to us in an interview.
The difficulty level in Kirby's Epic Yarn was set pretty low for younger players, according to Tezuka. "With Yoshi's Woolly World, we don't intend it to be for younger players...we were going to make it a Yoshi game," he stated. "The courses beyond what we have on the show floor will get more challenging. And if you try to get all the collectibles, you'll find it pretty challenging. It'll push back."
The reason the game seems to be more challenging this time around is because there is a lack of Baby Mario, which lets you die from enemies. You can also die by falling in pits. These added elements make it "easy to raise the difficulty level as needed," said Tezuka. "It's kind of like Mario."
Be sure to check back early next week for the full interview with Takashi Tezuka for more on Woolly World, Mario Maker, and more.