The exclusive 3DS Persona title gets some limited edition love.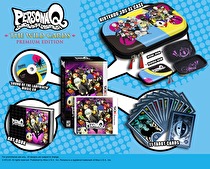 Various editions of Persona Q: Shadow of the Labyrinth are heading to Western markets this fall. Two different versions of the physical version, the normal retail bundle, and "The Wild Cards" Premium Edition, will be available upon release.
Gamers that pre-order or pick up the first run normal retail bundle will receive a special set of tarot cards and special packaging for the game. The premium edition, which will be available in North America, comes with the aforementioned tarot card set as well as a Persona Q art book, soundtrack CD, and a Persona themed 3DS XL hard case that was previously limited to Japan. The normal retail version will sell for $49.99 while the premium set will retail for $79.99.
Persona Q: Shadow of the Labyrinth launched last week in Japan on June 5. The game incorporates the gameplay style from the Etrian Odyssey titles and is exclusive to the 3DS.