Level-5's ghost catching battler has been selling like crazy!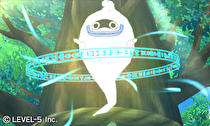 Yōkai Watch, the Nintendo 3DS ghost catching RPG from Level-5, has shipped one million units in Japan.
Released on July 11, 2013, sales for the title have increased since the airing of the anime this past January. In 2013, the title sold nearly 300,000 units over the period of roughly five months and has sold over 400,000 units this year alone. Although rumored, there is currently no official release dates for Western markets.
A sequel to Yōkai Watch, Yōkai Watch 2, is planned for release on 3DS on July 10, 2014 in Japan with two different versions, Ganso and Honke. For more information about the original game, be sure to read our impressions here.