He's definitely a fan of the new 3DS Miiverse...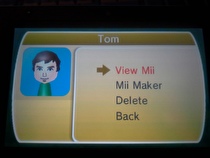 Nintendo is kicking off National StreetPass Weekend by sending over an exclusive gold pants Mii to players who visit Nintendo Zones during the event.
Tom, better known as NintendoTom from the Miiverse, will appear in his golden attire on any 3DS that has successfully logged visits in a Nintendo Zone in North America on December 14 and 15. Once visited, a note should appear letting users know about their new visitor. Players should recognize Tom as Nintendo's employed guide to Miiverse news and updates.
Nintendo's National StreetPass Weekend event will be available at Nintendo Zones in Canada and the United States. For two days, all Miis logged by the Nintendo Zone will be mixed up and redistributed around the continent to different hotspots.
To find a Nintendo Zone close to you, check out Nintendo's official Nintendo Zone website.