Get your 3DS ready!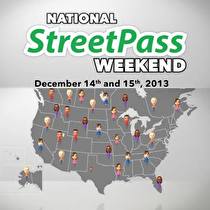 Nintendo has announced a National StreetPass Weekend for December 14 and 15 in North America.
For two days, all Nintendo Zones throughout Canada and the United States will communicate with each other, mixing up the StreetPasses they receive and redistributing them to other Nintendo Zones. This means players can receive passes from all over the continent, filling in their map and logging more players from even more areas than ever before.
To find a Nintendo Zone close to you, check out Nintendo's official Nintendo Zone website.