Not gonna lie, this trailer looks pretty badass.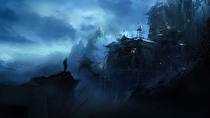 Batman: Arkham Origins will receive the previously announced Initiation downloadable content today, according to Warner Bros. Interactive Entertainment.
The Initiation DLC includes four challenge maps and the Initiation Bruce Wayne and Vigilante Bruce Wayne skins. The add-on can be downloaded on all consoles for $6.99 while players who have purchased the Season Pass for Arkham Origins can access the content instantly for free.
Initiation's campaign follows Bruce Wayne as he completes his last test to becoming the Dark Knight and furthers his martial arts skills. Taking place in the Paektu-San Mountains in North Korea, players will travel to various locations including a bamboo forest and a mountain top monastery to train with Master Kirigi.
Check out the trailer below.