Finally some Wii U love!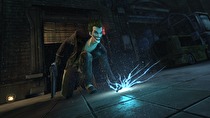 New downloadable content for Batman: Arkham Origins was announced today by Warner Bros. Interactive and will be available for all systems, including the Wii U. The three packs offered are the Infinite Earth Skins Pack, Black Mask Challenge Pack, and Online Supply Drop #1, although the Supply Drop pack will not be available on the Wii U.
The Infinite Earth Skins Pack can be downloaded from the Nintendo eShop for $3.99 ($4.99 on other systems' shops). The pack features six skins based on a variety of comic books and can be used in story mode after completing the main story once, right away in challenge maps, and in multiplayer mode for players level 2 and up. Players who have purchased the Arkham Origins Season Pass can gain instant access to this pack. The skins featured are: Earth 2 Dark Knight, Long Halloween Batman, Batman: Dark Knight of the Round Table, Thrillkiller Batman, Earth 2 Batman, and Classic Tim Drake Robin. Unfortunately the skin for Tim Drake will not be available for the Wii U.
Black Mask Challenge Pack sends players on a mission to defeat Black Mask in two new challenge maps: Lot Full and Hidden Facility. These missions can be completed as either Batman or Deathstroke for players with the Deathstroke Challenge Pack. This pack costs $1.99 for all consoles.
Online Supply Drop #1 will not be available for the Wii U. This pack brings additional content to multiplayer mode. Bane and The Joker can use two new clothing items with game enhancing features, plus a Sawn-Off Shotgun and extra weapon progression bonuses along with skins will be included.