An all-new stage with all-new tactics!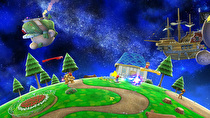 A new Super Mario Galaxy stage is coming to the next Super Smash Bros. for Wii U when it comes out in 2014.
This information comes from the official Super Smash Bros. site showing off the brand-new stage. Sakurai also commented "The pull of gravity emanates from the center of the planet, so this will require brand new tactics."
The released image features Bower and Mario's ships from Super Mario Galaxy.