Get ready to battle some enemies!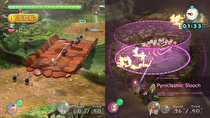 Four new missions of the "Battle Enemies" type are now available in Pikmin 3. One of the missions is free, while the other three coming in a pack that costs $1.99.
This is the second wave of Pikmin 3 DLC, following last month's four-pack of "Collect Treasure" mission type. Like all of the missions in the game, both packs can be played in single-player or in co-op.
The new missions are based off of Story locales and the goal is, as can be assumed, to battle and defeat enemies. Past this, there is no word on whether or not Pikmin 3 DLC will continue or if the next batch will add to the story.