The Nintendo 3DS messaging services have been terminated. We'll miss you, Nikki.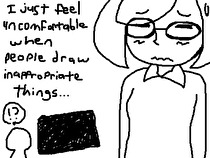 Nintendo's 3DS message relay service, known as Swapnote in the USA and Nintendo Letter Box in other regions, has had its SpotPass functionality disabled abruptly and permanently, essentially terminating the application. Flipnote Studio 3D, which was so far only released in Japan but had been set for a future release in the West, shares the same fate.
The decision was made after Nintendo discovered that some people had been exchanging friend codes with minors online, then sending offensive material to them through the two 3DS messaging services.
Swapnote Special Notes with custom stationery, often sent from Nintendo to promote new games, will also no longer be sent. StreetPass functionality remains intact, though of limited use since it only functions for friends who pass by each other physically, and only one note can be set for transmission at a time.
Nintendo has offered an apology to those who actively used both applications responsibly. The company will continue to raise awareness of the 3DS parental control options, but at this time a reactivation of either service seems unlikely.
There is no word as to whether Wii U communications will be affected.