GameStop says they plan on bringing back more "vintage" titles including Metroid Prime Trilogy.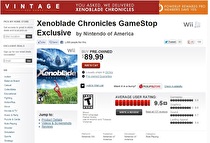 Xenoblade Chronicles has reappeared at GameStop and is being sold used for $90.
On August 10 Xenoblade Chronicles, a hard to find title, reappeared in GameStop stores and on their website. When contacted by Joystiq about the matter, GameStop released a statement saying that it is in response to PowerUp members, and that they "were recently able to source a limited number of copies."
According to their statement, the price is based on "current market value," and that "PowerUp Pro members always receive a 10 percent discount and earn PUR points on pre-owned purchases."
GameStop is also going to bring back other rare "vintage" titles stating they they "have sourced several more vintage titles that will be hitting stores in the coming months, including Metroid Prime Trilogy."