The company's CEO promises us more tales from the realm of robots.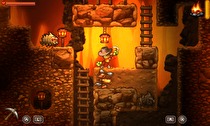 More SteamWorld games are on the way according to Image & Form's Brjann Sigurgeirsson.
We recently interviewed Image & Form's CEO Brjann Sigurgeirsson and asked him about the future of SteamWorld, and he assured us that there is more to come following SteamWorld Dig.
Sigurgeirsson said, ''We feel that at one point, when we were making SteamWorld Dig, we were giving away very very very much of the story behind the game. Well... basically what I told you before about the background,'' referring to an earlier part in the interview where the themes of SteamWorld were discussed. ''We want to put that out in pieces in coming games in the SteamWorld series, so that you get a better understanding of what is actually happening. I think that there is an interesting likeness to the Terminator series. Where in the first movie, you don't really understand how does this work and why did it happen? Or how did it start? You are not told that in the first movie, it is actually in the second movie where they actually tell most of the background and I like that. We have a universe that we can expand on and we will expand on it, so that is one thing.''
Things don't stop there. Sigurgeirsson continued, ''Another one is expanding on different types of games in SteamWorld. I got the question earlier today in another forum if we are looking towards Minecraft, Terraria and so on. Making a sandbox game would be thrilling, it would be very interesting to make that. Those games are fabulous things, they are beautiful creations. SteamWorld Dig is not a sandbox game, but we are not alien to the thought of making it or experimenting with it. But we are also thinking of lots of other types of gameplay.''
Despite launching SteamWorld Dig launching this week, Brjann Sigurgeirsson assured us that his team is already hard at work, saying that "...we are following up in the SteamWorld series with a radically different sort of gameplay. And it is a gameplay we can hopefully finish up in not too long, so we can have a tail on SteamWorld Dig. But it tags in pretty well, both with the personel from SteamWorld Dig and also the main idea of the robots.''
When we asked if this new game would also appear on a Nintendo platform, Sigurgeirsson responded, "It is up in the air, because we just started on it. But we must say that we are very happy with Nintendo overall and so we have no reason to leave the Nintendo 3DS platform. But if SteamWorld Dig becomes succesfull in the way we hope it will be, another path that can run in parallel is porting SteamWorld Dig to other consoles. It could to PlayStation, Xbox or even the Wii U."
SteamWorld Dig comes out this Wednesday in Europe and the day after in North America. You can the listen to the full interview, where we discuss SteamWorld Dig, the history of Image & Form, and more about the developer's future, by clicking right here.